Beauty & Self
Books & Music
Career
Computers
Education
Family
Food & Wine
Health & Fitness
Hobbies & Crafts
Home & Garden
Money
News & Politics
Relationships
Religion & Spirituality
Sports
Travel & Culture
TV & Movies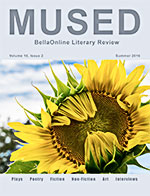 For many people, summertime is the perfect time to explore creativity. Plein air artists bring easels to gardens and beaches, showcasing nature's colors in oils, acrylics, and watercolors. Photographers ferret out a million sights to immortalize. Poets and writers stretch languidly beneath a shady oak tree, listening to the gentle buzz of insects, and constructing entire worlds out of the ether.

Enjoy the creativity of our community of artists - and then explore your own! We'd love to see your works for upcoming issues!

Summer Solstice 2016 issue of Mused

In the India Habitat Centre, New Delhi
Romantic Getaways - Marianne de Nazareth, Editor

It's a great experience staying at the Indian Habitat Centre in New Delhi




Culinary Uses for Pomegranates
Landscaping - Connie Krochmal, Editor

Pomegranates are very versatile fruits with many culinary uses. They're typically made into juice or eaten fresh. The seeds are also edible.




Drag and Drop Widget at Bookry.com
Flash and Animation - Diane Cipollo, Editor

In this Bookry for iBooks Author tutorial, we will create the Drag and Drop widdget at Bookry.com. This widget is a fun game with drag and drop images, which can be customized for just about any type of book created in iBooks Author.




Digital Book Series Project Graphics
Digital Art and Design - Diane Cipollo, Editor

In this tutorial, we will discuss the graphics and other planning for a marketing campaign for the Children's Storybook Template Series of books released to support the Children's Storybook Template for use in iBooks Author.




Coffee and asthma
Allergies and Colds - Sheree Welshimer, Editor

A cup of joe may help ease symptoms of allergy or exercise-induced asthma




The Ultimate Cheat Sheet On Recycling
Body Care - BB Lee, Editor

Keep the planet green by recycling.


| Google+ |
E D I T O R R E C O M M E N D E D
Personal Alarm & Whistle Combo


This is a wonderful personal alarm and whistle combo suitable for kids or adults. The personal alarm fits on all size wrists, and is easily adjustable with the Velcro type strap, which keeps it nearby while walking, jogging, or traveling. The alarm is loud and quickly alerts those nearby if one needs help.
Phoenix Rising


"No Eyes", a very wise, very insightful Shaman Indian takes Mary Summer Rain on a rare journey into the future where warnings of upheavals and challenges are gently yet thoroughly revealed out of love and preservation for her beloved Mother Earth.
Low Carb Charts


A must have reference guide for any low carber. Keep the carb counts of fruits, veggies, meats, alcoholic drinks and more at your fingertips.