Beauty & Self
Books & Music
Career
Computers
Education
Family
Food & Wine
Health & Fitness
Hobbies & Crafts
Home & Garden
Money
News & Politics
Relationships
Religion & Spirituality
Sports
Travel & Culture
TV & Movies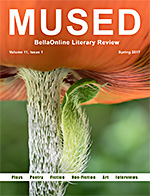 In our modern world of 24-hour diners and around-the-clock email, it sometimes seems as if we've lost track of nature's cycles. But then the Spring Equinox comes along and reminds us to pause. For thousands of years, cultures around the world have recognized this one special day as representing a balance of light and dark. It's a unique moment in time where our world settles in equilibrium – just for a breath. And then the sunlight shines out and pulls us deeper into Spring.

Enjoy the Mused Spring Equinox 2017 Issue



Eat a Healthy Rainbow Diet for Youth & Longevity
Nutrition - Moss Greene, Editor

Foods rich in antioxidants are anti-aging foods. And these colorful antioxidants are some of the healthiest foods to eat, offering great antioxidant benefits.




Motif Bocher 1912 Tatting Book
Tatting - Georgia Seitz, Editor

Bocher 1912 Tatting Book. Among the many patterns for which members of the Online Tatting Class rewrote methods in 2009 and prepared samples, several are still available in the class files. This particular pattern inspired both earrings by Sue MacLeod and a bracelet, too.




Mint Julep Bars Recipe
Desserts - Karen Hancock, Editor

Celebrate the Kentucky Derby with these bars containing the flavors of the official cocktail, the Mint Julep.




Into the Badlands
Prime Time TV - Maria Brown, Editor

AMC's series Into the Badlands is set in a post-apocalyptic timeline and it has all of the makings of a great show. There's love, fighting, and hope.




Coconut Chickpea Curry Recipe
Indian Food - Sadhana Ginde, Editor

Globally, chickpeas are probably the most commonly eaten bean or legume. They are a main staple in Punjabi (North Indian) cuisine. My delicious Coconut Chickpea Curry is the Maharashtrian version of this typical Punjabi staple. Best of all, it's easy to prepare & healthy to boot :-)




Incoming! – Planetarium Show
Astronomy - Mona Evans, Editor

What devastated the dinosaurs, excavated an great hole in the ground, and broke windows in Russia? What produced the life we know on Earth, but could also destroy it? The answer: impacts from space. It's the subject of the planetarium presentation "Incoming!".


| Google+ |
E D I T O R R E C O M M E N D E D
Christian Living Site Shop


Find book reviews of Christian Books both fiction and non-fiction. Read my experience in purchasing a Bible Book Cover.
The Weiser Field Guide to Cryptozoology


The Weiser Field Guide to Cryptozoology by Deena West Budd includes information, interviews, and stories about forty different cryptids seen in various places all over the world by credible eyewitnesses like policemen, rangers, and doctors. Readers will learn where and how to find flying humanoids, hairy humanoids, giants of all kinds including rabbits, bats and spiders, goblins, and vampires.