Beauty & Self
Books & Music
Career
Computers
Education
Family
Food & Wine
Health & Fitness
Hobbies & Crafts
Home & Garden
Money
News & Politics
Relationships
Religion & Spirituality
Sports
Travel & Culture
TV & Movies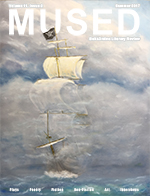 Our time on this Earth is fleeting and precious. We often know that in a vague, intellectual sense, and yet we can find ourselves whittling away those finite minutes without mindful thought. We should celebrate the beauty in a child's smile. The radiant sound of saying "I love you" to that special person. The warm touch of a hand. The delicate scent of a wildflower.

Enjoy the Mused Summer Solstice 2017 Issue



Pray Boldly
Christian Living - Lynne Chapman, Editor

How strong is your confidence in our Heavenly Father? When's the last time you prayed boldly? Without hesitation and without second guessing?




Viewing the 2017 Solar Eclipse in Florida
Florida - Georgiana Kurtz, Editor

On Monday, 21 August 2017, the first solar eclipse since 1918 will be visible across the continental U.S. from Oregon to South Carolina. If you view it in Florida, you will see a 70-90% partial eclipse. You must watch it entirely through certified solar lenses.




10 Essential Oil Tips & Tricks
Body Care - BB Lee, Editor

10 Essential Oil Tips & Tricks




Perfect Hard Boiled Eggs recipe
Cooking for Kids - Kymberly A. Morgan, Editor

Hard boiled eggs make perfect snacks for you and your kids. They are portable, fast, nutritional, and will hold you over until your next meal with their protein content. This is a fail-proof recipe that will come out perfect every time. Pair them with a complex carbohydrate for a perfect snack!




Flu seems to fly around the city of Bangalore
Romantic Getaways - Marianne de Nazareth, Editor

The monsoons are delayed and have brought the 'Flu with them




Santiam Filberts and other Varieties
Landscaping - Connie Krochmal, Editor

Santiam filberts and Yamhill filberts are only two of many outstanding varieties. Here are details on these varieties.


| Google+ |
E D I T O R R E C O M M E N D E D
Giada´s Kitchen


In this book each recipe is a burst of taste, colors and combination of flavors; the instructions are really easy to follow for anyone, and the final result of virtually every dish is presented in a beautiful arrangement of photographs.
The 500 World´s Greatest Golf Holes


This is a great coffee table book with photos and narrative describing some of the best golf holes in the world. Makes a great start for your bucket list of golf courses to visit. Published by Golf Magazine.
Jesus of Nazareth


Award winning film produced by Franco Zeffirelli, depicts the life of Jesus Christ from birth to resurrection. Originally made for television in 1977, this set is available on DVD or VHS. It´s been a few years since I last watched this awesome depiction of Christ´s life, but it still remains one of my favorite.