Beauty & Self
Books & Music
Career
Computers
Education
Family
Food & Wine
Health & Fitness
Hobbies & Crafts
Home & Garden
Money
News & Politics
Relationships
Religion & Spirituality
Sports
Travel & Culture
TV & Movies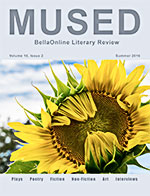 For many people, summertime is the perfect time to explore creativity. Plein air artists bring easels to gardens and beaches, showcasing nature's colors in oils, acrylics, and watercolors. Photographers ferret out a million sights to immortalize. Poets and writers stretch languidly beneath a shady oak tree, listening to the gentle buzz of insects, and constructing entire worlds out of the ether.

Enjoy the creativity of our community of artists - and then explore your own! We'd love to see your works for upcoming issues!

Summer Solstice 2016 issue of Mused

7 Tips For Choosing A Great Cruise Cabin
Cruises - Nancy Schretter, Editor

Selecting a cruise ship stateroom can often be a challenge. The best cruise cabin for each guest depends on a number of personal preferences, each of which should be carefully considered. Ship layout is key as well. Here are seven tips to help you pick the best stateroom for your cruise vacation.




Murski Homestead Basil Cranberry Jelly Recipe
Senior Travel - Hazel M. Freeman, Editor

Deep in the heart of bluebonnet country, tucked into the beautiful foothills of the Texas Hill Country, you'll find the lovely Murski Homestead B & B.




My Big Mouth - Lessons From The Bible
Christian Living - Lynne Chapman, Editor

We all have heard that "Talk is cheap." This phase gives us the impression that words have little or no value, and are relatively harmless.




The willows of Wular Lake in Kashmir, India
Romantic Getaways - Marianne de Nazareth, Editor

The willows in the Wular lake in Kashmir need to be removed to increase the capacity of the lake




19th Amendment Ratified
History - Vance Rowe, Editor

On August 26, 1920, the 19th Amendment was ratified, finally giving women the right to vote.




How to Make the Bookry Memory Widget
Flash and Animation - Diane Cipollo, Editor

In this Bookry for iBooks Author tutorial, we will create the Memory widget for a holiday digital book created in iBooks Author. One of the nicest features of this Bookry widget is that you can customize all the graphics for the widget to match the theme of the book.


| Google+ |
E D I T O R R E C O M M E N D E D
Make Clothes for 18 Inch Dolls


With this book you can make a complete wardrobe for 18 inch dolls; including dresses, pants, jewelry, a bag and a crocheted outfit.
Eagle One is 2nd to None!


Everyone should have the basics to keep their rides shiny and road ready. The only way to do it is with Eagle One all day long!
Phoenix Rising


"No Eyes", a very wise, very insightful Shaman Indian takes Mary Summer Rain on a rare journey into the future where warnings of upheavals and challenges are gently yet thoroughly revealed out of love and preservation for her beloved Mother Earth.