Beauty & Self
Books & Music
Career
Computers
Education
Family
Food & Wine
Health & Fitness
Hobbies & Crafts
Home & Garden
Money
News & Politics
Relationships
Religion & Spirituality
Sports
Travel & Culture
TV & Movies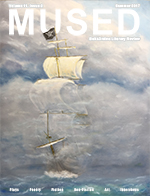 Our time on this Earth is fleeting and precious. We often know that in a vague, intellectual sense, and yet we can find ourselves whittling away those finite minutes without mindful thought. We should celebrate the beauty in a child's smile. The radiant sound of saying "I love you" to that special person. The warm touch of a hand. The delicate scent of a wildflower.

Enjoy the Mused Summer Solstice 2017 Issue



Gone Black Book Review
Suspense / Thriller Books - Karen Hancock, Editor

Nicholas Black and Claire Morgan are finally tying the knot, but Black is kidnapped on his way home from France, and doesn't make it to the wedding. He is being tortured, and needs help. Claire and Black just may not survive.




The Constitution and Public School Policy
School Reform - Maeve Maddox, Editor

An irony of the current turbulence in public education is taking us back to the beginnings of the Republic, when only the people with means could educate their children.




Pesticides Hurt Sperm
Infertility - Hannah Calef, Editor

Consuming a higher pesticide load may reduce male fertility




Thunderheart and The Activist Film Review
Drama Movies - Angela K. Peterson, Editor

"Thunderheart" and "The Activist" are political thrillers that also comment on the stereotyped view of the American Indian in Hollywood films.




Needleart 1921 edging #7
Tatting - Georgia Seitz, Editor

These patterns are from the "Needleart" magazine Vol.8 #3 published in 1921 on page 17 and continued on page 68. There are seven patterns of varying degrees of difficulties. The designs are intended for underwear but today's fashions would also be enhanced on outer wear as well. More this summer.




When You Were Older Book Review
Reading - Connie Mistler Davidson, Editor

In her novel, When You Were Older, Catherine Ryan Hyde explores one man's journey through life in the post 9/11 United States. This coming of age novel delves into timeless themes that affect all of us. I read this compelling novel in one greedy gulp!


| Google+ |
E D I T O R R E C O M M E N D E D
God Underneath


Spiritual Memoirs of a Catholic Priest, By Edward L. Beck. Each chapter contains a scripture passage and personal tales revealing Godís presence in everyday life. Fr. Beck is a member of the Passionist community and travels throughout the country preaching and organizing retreats. I highly recommend this wonderful book and have personally attended several of Fr. Beckís inspiring parish missions.
iPad Tablet Computer


The iPad is a great tablet computer for surfing the net, checking email, playing games - all while being light and portable.
Your Adoption Guidebook


Considering adoption and not sure where to start? This handy guidebook is for you! Youíll find everything you need to decide if adoption is the right path and then learn how to begin the process.